The time of hiding your love with the same – sex person is over when more and more popular destinations in over the world welcome you with positive and friendly attitude. If you two are free now and would like to burning up your love, do not waste any seconds and book tickets to put your footsteps on the following 10 Friendly Vacation Destinations For Gay Couples as son as possible !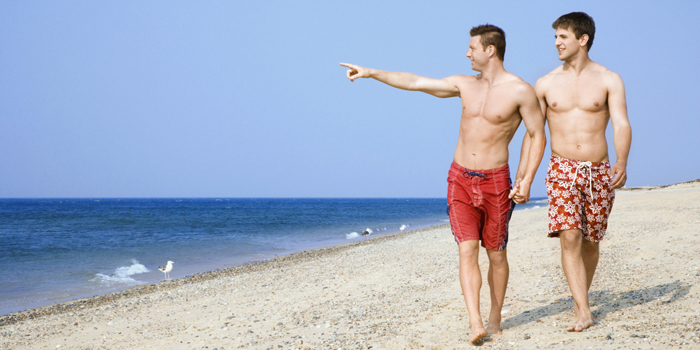 1. New York City, USA
There is no doubt that one of the best and largest cities in all over the world is always on the top place of many popular gays tourism articles. Traveling this promise land of LGBT (lesbians, gays, bisexual, transgendered), you are unnecessary to worry about the issues of what to do or where to stay because all the best thing you need and wish to experience is here. Some worldwide well – known destinations absolutely are Hell' Kitchen, Chelsea or West Village in Manhattan. With such an amazing city, the only thing you should consider is whether you two would like to come back your hometown.
2. Buenos Aires (Argentina)
Fascinating and hot tango is enough to show you enthusiastic, open and hospitable people here. Be sure that you would not to be blind with the great feeling of the largest and noisiest city and harbor at the same time in Argentina. Being abounding in unique structure buildings, modern life and lots of activities days and nights, Buenos Aires are deserving for each your second and coins, especially Palermo which is in the northwest of the city and considered as the center of gays. Argentina is said to be the first country in South America gives approval with same – sex marriage.
Read more about Buenps Aires by click on this link !
3. Barcelona, Spain
This is the third amazing destination in the world you are free to bring your love with your same – sex mate to the light. No one, both gays and straights can refuse the attractive and charming of this city with itself beautiful sceneries and neighboring beaches. It is a short trip by train; you will have a chance to visit Stiges, a lovely and gays -friendly beach town.
4. Soho, London, UK
If the United Kingdom is a fun land for gays, Soho is the funnies places here. These words of "super" or "excellent" are always put in front of "happiness" or "excitement" when talking about this area. Lots of interesting and meaningful activities for gays taking place here, of which are performances of the world popular singers like Madonna, Lady Gaga for example.
5. Thailand
Mentioning the gay – zone, you could not forget the most famous Asian country. The number of gay places, performances, activities is uncountable exactly. Traveling to Thailand, people wish to visit one of the most expecting places for both straights and gays called The Red Light district in which over flow of engaging things that seems too hot to enjoy for gays, even. These are not as simple as a developing industry but a unique culture of Thailand alone.
6. Sao Paulo, Brazil
Brazil is a land standing for anything natural, open and hot most in all over the world and so is Sao Paulo, of course. It will be easy for you to see many places and services are available for gays. A restaurant named Jardin there even has the particular bars for them.
7. Nollendorfplatz, Berlin, Germany.
The history of this city almost linked to gays or lesbian people. Your holiday will be more amazing if taking part in lots of annual and unusual activities in the city like Les and Gays Stadtfest. At that even, same – sex people are able to enjoy many kinds of films, sports or tourism as well.
8. Maui, Hawaii
Not only cities are accessible to gays, lots of fabulous stunning beaches are attractive to them. Maui, Hawaii gets a high value on amazing beaches with clean and blue sea, spreading yellow sandbank and large number of entertaining activities. You and your partner may take some times to choose what should do first and then because of its amazement. For a quiet and relaxing holiday totally, think about the best spa services. Want to take part in something more interesting, horseracing and discovering great waterfall are ideal destinations.
See the hub of Hawaii pictures here !
9. Punta Mita, Mexico
Unlike other busy and noisy mentioned cities, Punta Mita just is a small resort town lying Pacific Ocean of Mexico, far from Puerto Vallarta about one hour travelling. They are peaceful and quiet beaches or some lightly outstanding activities like diving, sailing or going fishing that bring gay couple a impressive and strange feeling of staying away from complicated problems of daily life and enjoy the other lovely part of it.
10. Rio de Janeiro, Brazil
One more place in the country of hot Samba is on the top of ideal holiday destinations for gays. The perfect weather and climate remaining warm all the time is an advantage attract to visitors. Almost the whole year, gay, les or straight couples are capable of spending their most romantic holiday on stunning beaches or endless nightlife here. Do not forget to enjoy so friendly gay attitude and good tasting of some restaurants and bars like Casa de Matriz or Dama de Ferro.
In any loves or to any couples, no more meaningful and greater time than moment you talk and say "Yes" to your partner in front of God and share your holiday or post – marriage vacation with each other. Do not waste any minutes of them by anything. Just hand in hand and take a flight right toward some of amazing destinations above.