Nowadays there are many international tourists travelling to Thailand than ever before. Therefore Thailand's tourism industry is more and more developing. Thailand country is known with many attractive travel places by people all around the world such as Ko Tarutao Island- a famous one with wild nature life, Ayuthaya- business capital of Asia, Royal Palace- famous palace for extremely beautiful architecture, etc. Of which, Chiang Mai – the most attractive place, people who are travelling to Thailand should come to visit and enjoy the scenery here.
Chiang Mai is known as one of the most attractive and dynamic hubs in Thailand with many spectacular mountains, vibrant hill tribes, a relaxed vibe and old temples. It is really the amazing and ideal place for you to explore these odd things by yourself.
Chiang Mai is a hub of Northern Thailand, away from Bangkok approximately 700 kilometers. It is the most important cultural hub in Northern Thailand. The name of Chiang Mai has another meaning "new city"- established in 1296. The weather is cool and nice here. Therefore it is suitable for doing tourism business. A variety of outdoor activities and unique features of Chiang Mai make tourists interested in and excited about. As a result, many of them stay here and do not want to come back their country.
Chiang Mai is a city where is rich in culture with popular festivals, ancient temples and pagodas, etc. Tourists can visit Chiang Mai all seasons of the year. When coming here, tourists should not miss any chances of doing these following activities:
Festivals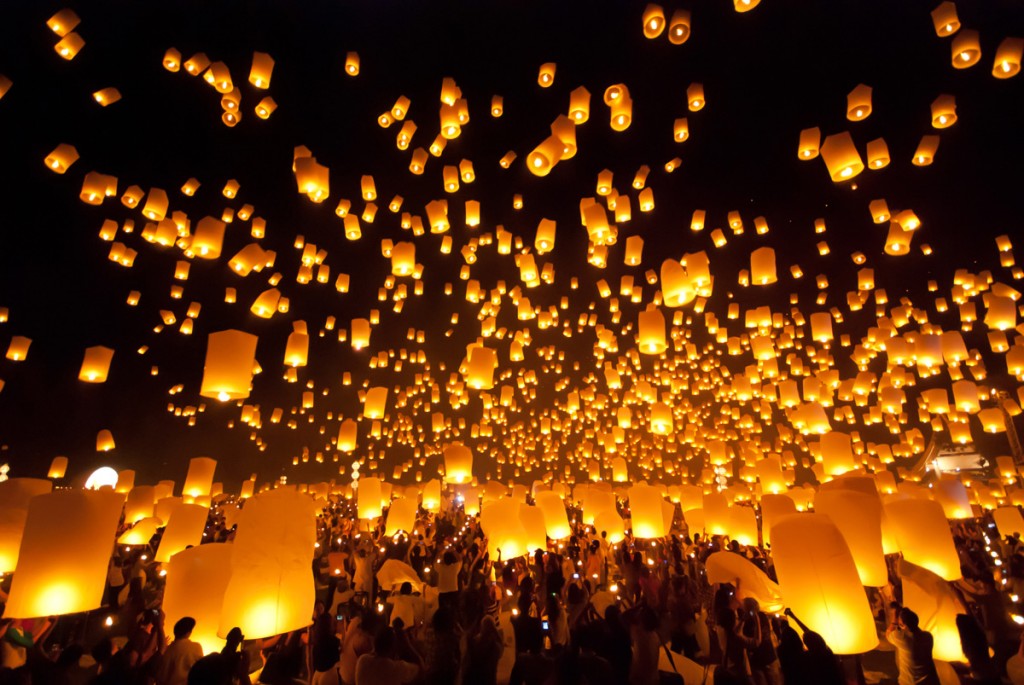 Loi Krathong Festival, Thailand
Coming to Chiang Mai, tourists should not miss opportunities of taking part in festivals in here such as Loi Krathong Festival, Songkran Festival and Chiang Mai Festival Flower.
Loi Krathong Festival is a famous one in Chiang Mai. The festival is celebrated on the day of full moon, December in Thailand (lunar calendar). Every year, there are thousands of people joining the festival. They make karathong which is decorated by flowers and candles and then drop it down the stream of the city. Thousand of lanterns are also aired to the sky. This helps native people escape poverty and has a full of life.
Chiang Mai Festival Flower lasts within 3 full days on the last day of the first week of February annually. The event is held while types of temperate and tropical flowers blossoming. The city streets are displayed colorful flower boxes. As so, Chiang Mai also gives the city its name "Rose of the North". The annual flower festival attracts a large number of tourists coming to visit.
Songkran Festival is celebrated in the middle of April on the occasion of traditional Lunar New Year of Thai people. During Songkran Festival, a serie of religious activities is held annually, of which namely parades and Songkran's beauty contests.
Temples and pagodas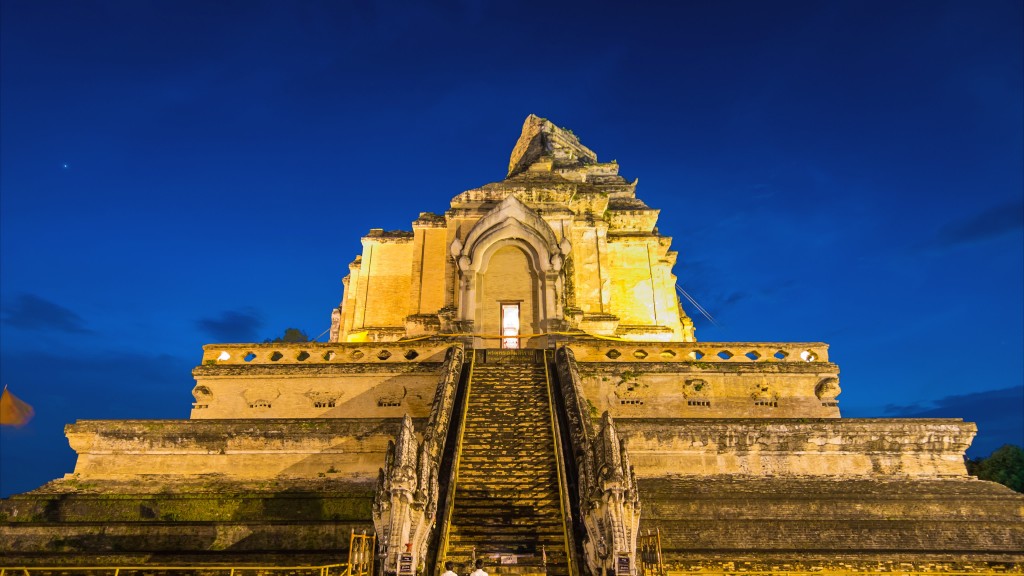 Wat Ched Luang Pagoda
Beside traditional festivals, Chiang Mai is also famous for old temples and pagodas. There are hundreds of interesting Buddhist temples and pagodas in this city. Some are historically significant, some contain beautiful artworks and some are popular with local Buddhists and some offer foreigners a chance to learn about Buddhism. Here are some worth to visit such as pagodas of Thai people which visitors can not miss such as Wat Phrathat Doi Suthep Pagoda and Wat Chedi Luang Pagoda, Wat Pan Tao Temple, Wat Phra Singh Temple, etc.
Galleries and Museums
As mentioned above, tourists can join and eye traditional festivals in Chiang Mai when they come here. Along with it, they can also go to Museums or Galleries to admire interesting exhibitions.
Thai boxing
A journey to Chiang Mai is not really perfect if you miss a match of Muay Thai- a popular sport, Thai boxing after football of the Thai. If you want to enjoy a real match instead of a match just serving for travelling, you can ask natives for information here.
National Park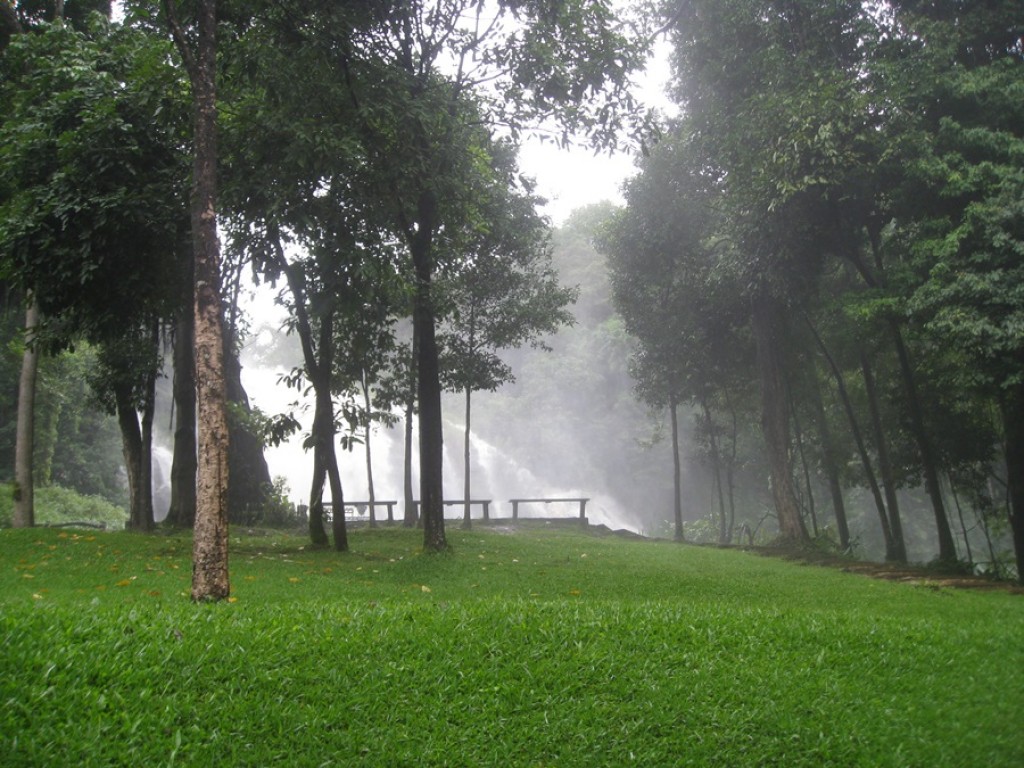 Inthanon National Park, Thailand
Someone had enjoyed National Park tours in Vietnam, will be satisfied by the adventure to National Park in Thailand as well. With lush tropical forests, waterfall and ancient village, Doi Inthanon National Park is the place where many natives in Northern Thailand live. This is one of many reasons why journeys to Chiang Mai of tourists last at least a couple of days.
There are also many and many other activities for tourists to do like visiting hill tribe villages, rafting, enjoying food tours, etc. Contact the local travel agent in Chiang Mai for more information !
Shopping
Although you will see many malls at Chiang Mai night market displaying similar souvenirs, you still find something exciting here. Streets of Sri Dornchai and Chang Klan are always full of malls and crowed people shopping. This makes it become a wonderful attraction for tourists even when they have no intention of buying anything.
Tourists can travel around Chiang Mai by many different transports. For example, by taxi, motorbike, bicycle, car or even on foot. However, the best way is that you should ride a motorbike to travel here.
Chiang Mai is such a famous tourist attraction, why do not you buy a ticket for travelling to here right now! We hope you have a fantastic journey. Let's enjoy your time in Chiang Mai City!